Director's Cut: Michael Ray's New Video "One That Got Away"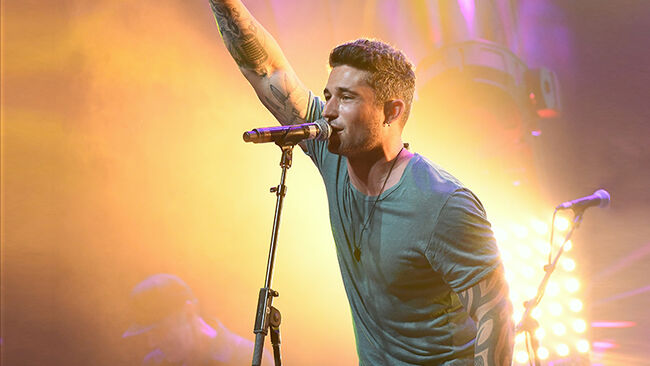 Michael Ray brings extra heat to Miami nights with his brand-new video for "One That Got Away". The location of choice was an interesting and intentional one that led him from the backroads of Tennessee all the way to Miami, Florida.
Cody Alan had to investigate.
"We wanted to treat Miami as its own character in this video because we felt that this city really had a personality and an energy." shared Ray. "I really wanted to get outside of my comfort zone."
Taking this vision to his management and label, Ray's team agreed. Warner Music Nashville's Creative Director, Mike Dupree knew exactly how to get the job done. Bringing in Director Sean Hagwell, the collaborative pairing sizzled immediately.
Alan was able to catch up with Hagwell to get the inside scoop.
"What was it like to work with Michael on a video like this? Country music, but not a typical country music video treatment"? asked Alan.
Hagwell, dressed in customary black fashion smiled and leaned in to make a statement.
"From the start Michael and I decided that the video for "One That Got Away" needed to look and feel different. In my experience as a director you can do one of two things; create something safe and accessible to everyone or you can create something that brings out something emotional."
"When we arrived in Miami, we both immediately felt an electricity. The culture, the people, the atmosphere...the city was a character in itself. As soon as we started filming everyone knew we had something special on the screen. Sometimes as a director you get lucky and everything just falls into place perfectly. This was one of those moments.""Moving through the city we discovered the real Miami. Musicians, street artists, and couples dancing along Espanola Way."
"I've always been a fan of classic love stories. In today's world I can't help but feel that we don't see enough of that. A purely serendipitous night of adventure with a magical girl.""Michael and our lead Victoria had never met prior to the shoot. I intentionally kept them apart so that we could capture those authentic moments of getting to know someone new. Every moment of laughter, surprise, and adventure you see on screen is purely genuine. I can't help but feel there's something special about that."
"Michael is a true artist. I've never met anyone who has more knowledge about music, especially the country music founders that most people have forgotten, than he does. The level of his talent, kindness, and creativity is unreal. We worked so well together on set, collaborating and inspiring one another to make things the best they could be in the moment and never limiting ideas."
Watch the video here.
Photo Credit: Getty Images.