Jimmy Fallon Does 'Top 10' Spoof On Why Letterman Is Retiring (Watch)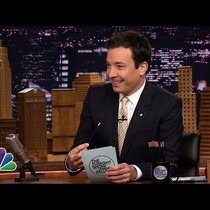 Posted April 5th, 2014 @ 11:25pm
If you know anything about David Letterman's show, you know one of the bits he does are his 'Top 10 Lists.' After Letterman announced his retirement, Jimmy Fallon 'Top 10 Reasons Why Letterman Is Retiring.'
10: Wants to quit while he's still able to compete on "Dancing With the Stars."
9. Made millions selling crack to Rob Ford.
8. Time slot was getting to "Jimmyesque."
7. He's not retiring - he's "consciously unhosting."
6. Stop! Hammock time!
5. Hillary/Letterman 2016!
4. After 31 years, finally got through to the Obamacare website!
3. One word: E-Looprah
2. Jay Leno needs a partner for next season's Amazing Race.
1. Jimmy Fallon is stealing his bits.
Too funny. Watch below!